20+
20+
Places of interest in and around Skvrňany
Skvrňany is a warm and compact Plzeň district. There are more than 20 places for active relaxation within a 20-minute walk, while cycling takes even less time. Whatever it is you need, you can stay in your neighbourhood, plus you can make use of the tram here.
Read more
20
20 minutes
Core amenities
Nurseries, schools, shops and supermarkets, post office, restaurants, medical facilities, public bus and tram stops, but also green space, parks and playgrounds: all within 2 kilometres of the new project. You can easily walk this distance within 20 minutes.
Transport accessibility and amenities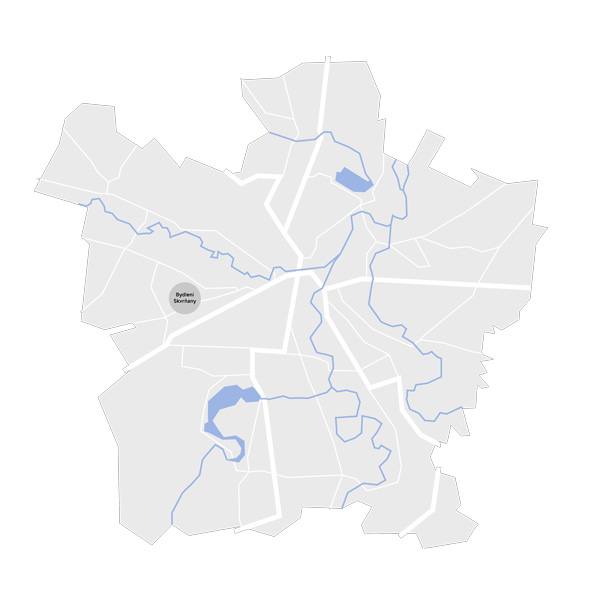 Public transport or bicycle
Right next to the new project (150 m) is the final stop on the no.2 tram line connecting Skvrňany with the centre of Plzeň. Trams leave every 5 – 8 minutes in the morning, and you can get to the eleventh stop of the line - Sady Pětatřicátníků – in 13 minutes. It only takes two minutes longer to get to Náměstí Republiky.
The residential project is next to a cycle path which connects to an extensive network of cycle routes leading across enchanting landscapes. Near the project you can join Friendship Route 37, which goes from Plzeň via Stříbro to Železná Ruda. From here you can link up to the German cycle path network.
Trains
If you prefer taking the train, you can walk to the Plzeň-Zadní Skvrňany train station in around 7 minutes. And from there it takes just 7 minutes by train to get to Plzeň's main station.
Car
If you like your car, the neighbourhood has excellent transport connections to all destinations. You can get to the city centre in around 10 – 15 minutes by car, depending on traffic. There are also excellent connections out of the city. You're at the main road out of the city (junction of Vojanova and Regenburská) practically right away, and you're on the D5 motorway in 10 – 15 minutes by car. The journey to Prague takes around an hour, and you're at Rozvadov within 45 minutes. The nearby Regensburská road connection, to which the planned western city bypass will soon be connected, will make your journey to the northern outskirts and Karlovy Vary or Žatec even more convenient.
Schools, shops, services, sports and relaxation
Škvrňany's distinct character offers its residents a broad spectrum of amenities. Whether you need to do some shopping, exercise, entertain the kids or just chill out, you don't need to leave the borders of your neighbourhood. Everything you need can be found in your immediate vicinity. Skvrňany is also noted for its extensive network of educational institutions, and its very nature lends itself to exercise and active leisure. Sports centres, the countryside and cycle paths are within easy reach within 15 minutes. Need to do a bigger shop? No problem: the Plaza and Borská Pole shopping centres are easily reachable by car or public transport.
There are a wide range of options for leisure activities involving active exercise or more traditional forms of entertainment: sports centres, the countryside, cycle paths, all within 15 minutes.